BH TK1 STDscd

Black Zone's Alicia Chinn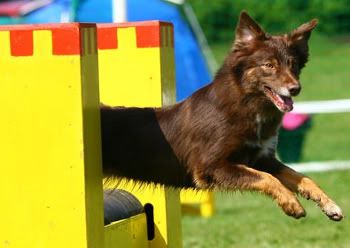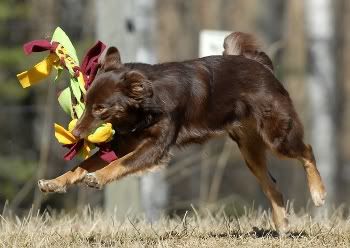 Basic info

Australian shepherd, bitch

Born 30.04.2008, Sweden

Red tricolor, long tail

Breeder: Kennel Black Zone, Isabelle Lundstedt

Owner: Shanti Karinen, Helsinki, Finland

FCI & ASCA registered

Height: 51cm

Weight: 17kg

Hips: A/A

Elbows: 0/0

Eyes: cleared regularly, last 02/14

Back: unofficially normal

All teeth, normal bite

Approved working dog test BH

Competes in highest class of obedience

Competes in highest class of agility

Herding ASCA STDscd-titles & 1st leg OTDs

ASCA agility titles JS-N & GS-O

ASCA obedience 2/3 leg in novice class

Approved Finnish mentality test +240 points & secure of gunshots >>> Video

Approved Swedish mentality test MH >>> Test results (Finnish)

1st litter at kennel Black Zone's 16.11.2012 >>> More info

2nd litter at Red'n Ready 10.06.2014 >>> More info

More info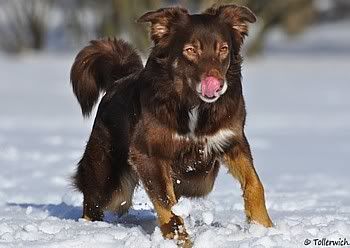 Dracu is a bitch I imported from Sweden in summer 2008 when she was 8 weeks old. I went to see the breeder Isabelle, dam Fame and the 6-week-old puppies before making a decision and fell in love with this little red girl. In my opinion she was the most secure, active and social bitch and I told Isabelle I must have this little girl. Luckily Isabelle trusted me with Dracu and two weeks later I brought her home. I had big hopes for Dracu to become a good dog for all different dog sports like agility, obedience, working dog trials (tracking, search, rapport etc.) and herding, and she has met them very well. Her pedigree is a very nice mix of pure working line aussies from Hanging tree and her father has proved to be a excellent herding dog. Dracu's mom is a very nice all-around bitch with a mixture on versatile line aussies like Fairoaks and Diamond Aire behind her. She is a intense and willing working dog with good herding abilities. Dracu's name is short from Dracula - a name I came up with after Dracu sank her fangs into my flesh at age 6 weeks and left a nice mark on my hand and in my heart.
Dracu has really turned out a dream come true - she is everything I wanted in my new dog and more! She is the perfect dog for me in every way: she is very active but not hyperactive. Even though she loves to work, Dracu is a dog with good nerves and she is perfectly happy just being home with us. She had a few months of only short walks on the lead with no training due to a ligament injury and she was as happy as ever. She has an amazing focus and does not notice anything else when we train. She is very easily motivated, loves food and toys a lot but she is also happy to just work for me without reward. She has never had any motivation problems at trials because there is no reward. Dracu is very affectionate towards people she knows and friendly but a bit reserved twords people who she doesn't know. She has a guarding instinct that is quite strong but it might very well be learned behavior from Dante... But she showed a lot of courage in her mentality test when being threatened and I'm positive she would defend me to any lengths. But Dracu is the most affectionate dog and loves to get as close as possible to people and grin her own special grin. Dracu is not bothered by loud noises, odd placed etc. I have never seen her pressured and she takes pressure from me very well. If I'm hard on her she will just try to work better and harder. She is not the most dog social of dogs, she does not bother other dogs if they don't bother her. She would never start a fight, but she will let the other dog know that she does not want to socialize.
Dracu's health has been generally very good. She has no problems with her stomach (unless you count the numerous times she stole something inedible with Dante and suffered the consequences) and no allergies. Her fur is always shiny and she has not had eye infections etc. She has been x-rayed pretty thoroughly and has good hips, elbows, back, knees etc. The only problem we have had was a accident she had in late 2008 when she hurt her left back leg. She limped it for a few weeks and we went to check it. The vet thought it was probably only a mild strain (she and Dante like to play rough...) and gave us pain medicine and told to keep her in rest for a few weeks. Well, she kept limping after exercise so we went back. Now we took a x-ray and there was some liquid in her knee. We got more meds and rest. In early spring I took her to a orthopedics specialist who diagnosed her with possible knee ligament damage. Because it was pretty mild, she is young and small the vet recommended we try to get her better without a huge operation. We spent the whole spring doing a tight exercise program and by summer I thought she was ok. We started doing a bit of light agility, I started keeping Dracu off the lead etc. But still I thought her movements were not normal. When we checked her hips and elbows in September the vet examined her knee as well. She found pain and we got a strong medicine for infection. We started doing regular fysiotherapy but in 2011 she was limping again and had her knee operated in the spring. Two months of rehabilitation and she was doing agility. Two years later she is still 100% good, let's hope everything will be fine for the rest of her life!
Dracu's pedigree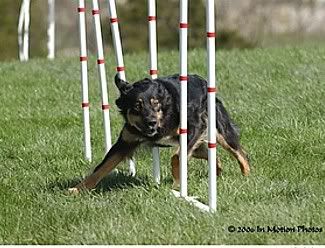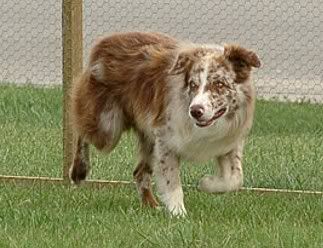 Pedigree of:

Black Zones Alicia Chinn STDs
Red C/W F=5.51%
F
S43341/2008
4/30/2008
WTCH Rising Suns Qwick Draw RTDcs DNA-VP
Red Merle AS-18746G27M-NOPI F=21.40%
E116730 DL88488507
6/30/2001
WTCH Hangin Tree Dude PATDcs RD RTDcs DNA-CP
Red Merle C/W AS-8698G33M F=31.67%
E61004 DL81203401
8/16/1992
Hangin' Tree Spook OTDc STDds DNA-CP
E50739 DL57402501
WTCH Hangin' Tree Working Blue RDX
Slash V Cherry Cola
Hangin' Tree Roja
E50740 DL57402502
WTCH Hangin' Tree Working Blue RDX
Slash V Cherry Cola
WTCH Pincie Creek Cherry Sota RTDc DNA-VP
Red W AS-10830G26F-T F=11.28%
E73833 DL57851109
2/19/1995
WTCH Hangin' Tree Blue Bear DNA-CP CD PATDcs RD RTDcs
E53420 DL48489301
WTCH Hangin' Tree Black Bear PATDc RTDcs RDg DNA-CP
Hangin' Tree Cinnamon Teal STDc OTDds
Ricinda Reba of Pincie Creek STDcds
E60995 DL50915601
Hangin' Tree Partner STDcds
Slash V Cherry Cola
Chaboos Flashes of Fame STDs
Black C/W RF F=2.33%
S61132/2002
11/12/2002
Mr Binks Fairoaks Drum Boogie
Red Merle C/W F=18.83%
S44989/95
2/22/1995
Ch Starstuffs Still Crazy CD STDds
E25705 DL46966801
Ch Manchado Crazy Horse CDX STDc OTDds
Ch Manchado Chili Pepper
Fairoaks Sami Jo
DL46301402 S44620/95
Fairoaks Atreyu STDd OTDcs DNA-CP
Boot Hills Ronita of Fairoaks
Crofter Holdings Crimson Chat
Black C/W F=15.67%
S54620/98
10/18/1998
Ch Diamond Aire Big Deal CD OTDds DNA-CP
E39340 DL47017601
Ch Dealer of Windsor
Diamond Aire Lace Mantilla
Bluefires Ice Dancer DNA-CP
HI111316 S17707/96
Bearjays Mickey
Bluefires Little Firedancer
Pedigree generated by WebGeneal 4.7.1PFM (2006.08.05/2006/08/05) on Fri 23 Jul 11:29:24 2010 UTC.
There are no guarantees made as to the accuracy of the data published at this site. For questions or further information, please visit Sponsor Patrick MacRoberts on the Internet at http://www.hrdndog.com.
Dracu's siblings
PENTUESISARUKSET
name
sex
health*
results
www/owner
Black Zone's Shmi Skywalker
bitch
A/A, 0/0, eyes clear
herding: OTDscd, ATDsd
WWW / Ewa Carlefred, SWE
Black Zone's Princess Leia
bitch
A/A, 0/0, eyes clear
agility 3rd class
WWW / Malin Karlsson, SWE
Black Zone's Queen Amidala
bitch
A/A, 0/0, eyes clear
herding: STDs
WWW / Lasse Stanback, SWE
Black Zone's Darth Vader
male
A/B, 0/0, eyes clear
WWW / Linda Jonsson, SWE
Black Zone's Chewbacca
male
A/A, 0/0, eyes clear
WWW / Ann-Catrin Hogling, SWE
Black Zone's Luke Skywalker
male
B/B, 1/1, eyes clear
obedience winner class
WWW / Diana Åhlén, SWE
Black Zone's Han Solo
male
A/A, 0/0, eyes clear
WWW / Stefan Carlsson, SWE
Black Zone's Droopy Mc Cool
male
B/B, 0/0, eyes clear
WWW / Harriet Edehol, SWE
*Hips, elbows & eyes
Copyright Shanti Karinen 2013-2014, pictures by Tiia Hämäläinen